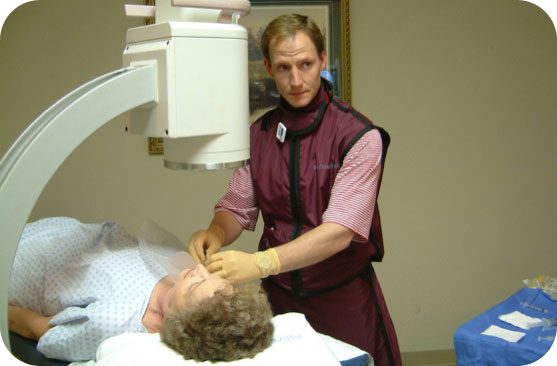 Arthrograms
Arthrography is the x-ray examination of a joint that uses fluoroscopy and a contrast material. When contrast is injected into the joint space, it coats the inner lining of the joint structures and appears bright white on an arthrogram, allowing the radiologist to assess the anatomy and function of the joint.
Arthrograms are particularly effective for detecting tears or lesions of the structures and ligaments of the joints, especially the knee, wrist and elbow, as well as rotator cuff tears or damage from a shoulder dislocation. They can help to determine the possible need for treatment, including surgery or joint replacement.
The procedure is most often used to identify abnormalities within the:
shoulder
wrist
hip
knee
ankle
Preparation
Tell your doctor if you are pregnant or suspect you may be pregnant. Your doctor may decide whether to postpone the exam or use an alternative exam such as ultrasound to reduce the possible risk of exposing your fetus to radiation.
Let your doctor know if you have any known allergy to x-ray dye, iodine or certain foods such as shellfish which can contain trace amounts of iodine.
You will be asked to remove all jewelry, eyeglasses, and any other metal or electronic objects from your body before the exam as these objects interfere with the quality of the images.
Further preparation for your arthrogram depends on which part of your body will be examined.
Generally, the portion of your body that is being examined will be undressed and you may be asked to wear a hospital gown to cover yourself during the exam.
You may be also asked to wear a lead apron as a precaution to shield areas of your body not being examined from x-ray exposure.
Exam
Arthrograms typically take up to 20 minutes or more.
Our technologist will prepare and guide you by explaining the procedure, assisting in removal of jewelry and other metal objects, and positioning you to ensure the highest quality images are obtained from your exam.
You may lie on a table, stand or sit between an X-ray machine and the X-ray plate. The technologist will then aim the machine at the body area being examined.
The technologist supervises the arthrogram from a shielded room and can always see and hear you. The technologist may ask and assist you with changing positions in order to obtain images from multiple angles.
The only discomfort you may experience is typically the temperature of the room, which is necessary to keep the X-ray equipment from overheating, or the hardness of the X-ray table.
Results
When your exam is complete you may leave and resume regular activities. Because you received a contrast medium you will be given instructions to help remove the medium from your body. This will likely include drinking lots of fluids.
Although it is rare, there is a slight risk of an allergic reaction to contrast material. Most reactions result in itchiness or hives. For individuals with asthma who are allergic, the reaction can be an asthma attack. In very rare instances, an allergic reaction may cause swelling in your throat or other areas of your body. Immediately tell your technologist or doctor if you experience any of these symptoms during or after your exam.

A radiologist will review your exam images and report the findings to your doctor within 24 hours. Your doctor will then discuss the findings and next steps with you.